Hi everyone!
Welcome to the first ever Student Union blog post! We are SUper excited to share with you all the amazing eve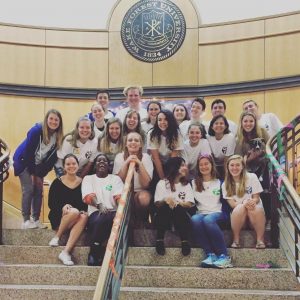 nts we do on campus!
To start, let me introduce myself. I'm Megan Hopkins and I'm a sophomore planning on majoring in Psychology and minoring in Counseling! I am the Director of Special Events with Student Union which means I get to plan aWake All Night along with some other cool events throughout the year! aWake All Night has been one of my favorite events that Student Union puts on so I was very very excited to plan it this year! aWake All Night: Deaconland (10/7/17) was such a fun theme for me since I'm a HUGE Disney fan, and it was really cool for me to see y'all come to the event and get excited about it too! Our committee is ready and excited to plan the next one in the Spring and we can't wait to see everyone there!
Want to help out with planning the spring aWake All Night? Come out to the WASE committee meetings, Wednesdays at 5:00! We hope to see you there!
Much SU love,
Megan Hopkins! (aka Hops)